Welcome to modern-airships.info

1996 a WDL blimp was stationed on the air field of our flying club for a Germany-wide advertisement tour. We had an interesting time talking to the whole crew while we waited for better weather. This experience triggered my addiction for airships and so I am now sharing my passion with the photographs on this web page.
Have fun browsing through the galleries!
Photo Galleries
Whenever I can take a photograph of an airship you will find it here some time after my encounter:
Aeros Blimps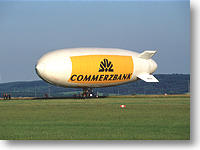 Commerzbank Blimp in Malmsheim
Lightship Blimps
| | | |
| --- | --- | --- |
| | | |
| Goodyear Blimp in Deckenpfronn | Hofbraeu Blimp in Deckenpfronn | Moored airships in Bad Waldsee after the Zeppelin parade Juli 2000 |
Skyship Blimps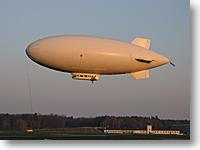 Skycruise Blimp arriving in Friedrichshafen for maintenance
WDL Blimps
| | | | |
| --- | --- | --- | --- |
| | | | |
| Marktkauf Blimp in Poltringen | Koenig Pilsener Blimp in Malmsheim | Deutsche Vermoegensberatung Blimp in Poltringen | Fuji Blimp in Malmsheim |
Zeppelin NT
Zeppelin NT at display during the Aero 1997
Zeppelin NT in Echterdingen August 1998
Airship parade over Lake Constance July 2000
Open Day at Zeppelin Luftschifftechnik GmbH July 2000
Zeppelin NT at display during the Aero 2001
Zeppelin NT flying passengers in August 2001
My first flight with the Zeppelin NT 2002/06/26
Zeppelin NT in Ostfildern 2002
Zeppelin NT in Malmsheim 2002
First flight of the Zeppelin NT #3 D-LZZF on 2003/02/09
Zeppelin NT supports the children's charity "Red Nose Day"
Zeppelin NT handed over to Nippon Airship Corporation
Zeppelin NT departs for ferry flight to Japan
FFH Tour 2004
Steve Fossett breaks airship speed world record
Zeppelin NT "Yokoso! Japan" is loaded onto the ferry
Zeppelin NT "Yokoso! Japan" starting to its first flight in Kobe
Zeppelin NT prototype being loaded on ship for the transport to South Africa for De Beers
Zeppelin NT with artwork from artist Stefan Szczesny featuring the island of Mainau
Fourth Zeppelin NT takes off for second test flight
Flights over Stuttgart July 2008
Airship Ventures Zeppelin lands at Salinas, CA
Airship Ventures Zeppelin arrives in San Francisco and at Moffett Field
Airship Ventures Zeppelin during passenger flights at Oakland airport
Inflight impressions during the transfer flight from Oakland airport to Moffett Field
Hotair Airships
| | |
| --- | --- |
| | |
| Thomapyrin Hotair Airship | Warsteiner Hotair Airship |